SCHEDULE- FALL SEMESTER 2017
Language support- Thursdays 12:15 PM- 1:45 PM  AND  1:30-3:00 PM- (Storrs Campus) FULL for Fall 2017
Language support– Select Fridays- 1:00 PM-2:00 PM (UCHC, Farmington)- Sept 15, 29.  Oct 6., 20. Nov. 3, 17.  (SEE FLYER)
Aphasia Book Club– Thursdays 3:15 PM- 4:45 PM-(Storrs Campus), FULL for Fall 2017
Aphasia Group Choir– time TBD; stay tuned!  ALL ARE WELCOME! (See a one-minute video of our first performance!  Slightly longer version is here.)
All groups are full for the semester.  Please fill out this form to be placed on our waiting list for a language support group.  We will also contact you when treatment studies become available.  If you would like to speak to the aphasia group coordinator directly, please call Jennifer Mozeiko at 860-420-9828.
ABOUT THE APHASIA LANGUAGE-SUPPORT GROUPS
Student-run aphasia groups take place for ninety minutes per week for the duration of every semester.  We host three to four groups per semester including a book club, depending on participant interest.
Groups are capped at ten participants and are designed as a safe place to practice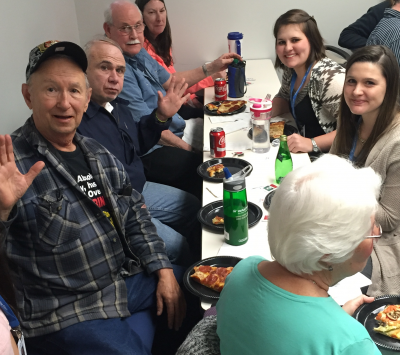 communication, to ask questions, and to receive and provide feedback to others aphasia.  Discussions tend to include topical current world and local events.  We have debates, strategize about how to handle difficult communicative environments (for example, loud restaurants) and play language games designed to increase word finding.  Our participants vary in severity.  Some can speak only a few words and some are very fluent but want to work on getting a bit faster.  We accommodate all ability levels.  
We encourage you to try aphasia group.  The only way to improve your language is to USE IT!  To sign up or to try a session, please contact me directly at 860-420-9828.
Jennifer Mozeiko, PhD, CCC-SLP
Assistant Professor and
Aphasia Group Coordinator
jennifer.mozeiko@uconn.edu