Aphasia Group Newsletter, 1st Edition, December 2017
Written by people with aphasia for people with aphasia
Co-Edited by SLHS undergraduate students: Kaleigh Frame and Madison Thompson 
We have 52 active members in our UConn Aphasia groups.  Our members are an incredible group of interesting people who strive to live life to the fullest, even after surviving a stroke.  During this past semester, several of our members worked together to create a newsletter showcasing some of the great variety of interests.  Our group members cross stitch, snowboard, surf, care for other family members, and travel.
 If you would like to work on an entry for our next newsletter, you may email it to aphasiarehablab@gmail.com or we can work on it together during an aphasia group session. We can decide on a topic and will break the task into small steps so that you an work on it at home.
TABLE OF CONTENTS 

Contributions from our members:

Members' activities:
BOOK REVIEW – Bill Curtin
If you have already read a book by Ray Bradbury – Something

Wicked This Way Comes, or Fahrenheit 451, you may find the autobiographical novel Dandelion Wine especially interesting. It is set in a small midwestern town where Bradbury grew up. It focuses on the experience of two brothers, Douglas (age 12) and Tom, during the summer of 1927. Douglas remembers beginning to write about people in town and his family. Old men and women tell Douglas that the town is changing and the future is uncertain. One man wants to build a "Happiness Machine" to prevent the old ways from changing. Into this story of small town life comes a character  simply called The Lonely One. He is a serial killer. Bradbury leaves the reader to wonder about the stories we tell (or write) about our own family history.
US NAVY NUCLEAR-POWERED SUBMARINES – Lawrence Bielen
USS Nautilus (SSN-571) was the world's first operational nuclear-powered submarine. In July 1951 the United States Congress authorized the construction of a nuclear powered submarine for the U.S. Navy which was

planned and personally supervised by Captain (later Admiral) Hyman G. Rickover, USN, known as the "Father of the Nuclear Navy". The Navy announced that the submarine would be called Nautilus.
She was christened on 21 January 1954 and launched into the Thames River, sponsored by Mamie Eisenhower, First Lady of the United States, wife of the 34th President Dwight D. Eisenhower. Final construction was completed in 1955.
On the morning of January 17, 1955, Nautilus' first Commanding Officer ordered all lines cast off and signaled the memorable and historic message, "Underway on Nuclear Power".Nautilus carried out many special operations such as submarine submerged transit of the North Pole. She also went into New York Harbor from Groton to celebrate at the Brooklyn Naval Shipyard after she had traveled 21,000 miles since launched.

She was decommissioned on March 3, 1980, but after preservation was brought home to Groton, CT where she was built. She is now a part of the Submarine Force Library and Museum. Since the Nautilus, the U.S. Navy has commissioned 206 additional nuclear submarines, 147 SSN Fast Attack submarines, and 59 SSBN Ballistic Missile submarines. The first 41 SSBNs commissioned in the 1
960s were referred to as "Forty One for Freedom".  I proudly served as a Reactor Operator on one of them, the USS
Theodore Roosevelt (SSBN-600).
All U.S. nuclear submarines that still follow the plans of Admiral Hyman Rickover (died 1986) have never had a nuclear accident.
HORSES AT AYER MOUNTAIN FARM  – Muriel Miller
There are 22 horses at Ayer Mountain Farm. Most of the horses are privately owned. The horses do many things there. Some of the horses show, do dressage, jump, or both as event horses. Some of the horses are used to trail ride, and a few of them are just companions.The horses are all very friendly. The horses live in different herds of varied sizes in different pastures.

I go to the farm with my daughter around 5 times a week. My daughter rides horses there, sometimes teaches riding lessons and takes care of some of the horses. I help her care for the horses when I go with her. We take care of them by making sure they have plenty of hay and fresh water and a nice clean place to live, and of course feed them treats.
Two of the horses we care for most are Jack and Hocus. Jack is a 16.2 hand appaloosa horse who is dark brown almost black with white spots. His companion, who is a little pony, is also an appaloosa. Hocus is a lighter brown and white with white spots. Hocus loves treats the most. When he wants treats he pricks his ears forward and makes really cute faces but when you run out of treats he puts his ears back and makes faces to show that he is not happy about that. They have their own barn and pastures with another herd of four horses that live in a pasture that is attached to theirs. They all get along well and sometimes they play over the fence.
I love to go to the farm. It is nice to get to be outdoors with the horses. The horse owners that come out are really nice too. I like to have the chance to talk to them and hear more about the horses at the farm. 
SURFING- John Fundock –"Surfing is great, And too much fun!"
I started surfing in 1968 in New Jersey and I was 16.   It was a great time with some friends and it was very difficult to learn how to surf. Some old big boards are very difficult to surf. And after a lot of practice and a lot of exercise, it was a really lot of fun. And in eventually, in Surfing,  you are really in shape. I have a few trophy from the New England competitions too.Over the next 50 years, I had many times to travel to go Surfing: Mass cape cod, RI, Maine, NH, Virginia , NC, SC, FL, California, Hawaii islands, England , France, Spain, Brazil. Too much fun!!!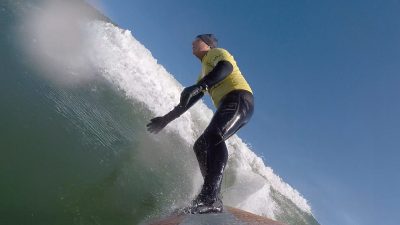 I retired 2013, did a lot of surfing, and I hope to travel to Hawaii , Africa and Australia. Unfortunately I had a stroke in July  2016. I was walking with my daughter In front of the house and and I just fell to the ground.  Everything change after that, I don't remember the first third day……….Then……I can't  walk, and I couldn't speak at all. If you talk to me, I really didn't understand anything.  After about three weeks in the hospital, I can walk a little,  but speaking very poor.  After a month, I know I was in trouble and I needed some goals to get better. I had a lot of good friends, speak professionals, and great family to help.
 Goals:
1)I wanted to start surfing by the spring of 2017
2) also being able to speak a little to stranger
3) using the phone to anybody
4) write and read newspaper and etc.
5) listening and understand
As of today, I'm not completely success  about all these,  but I've made some progress!!  Never give up……..
Surf's Up!!!! Thank you to everyone who helped me!!!!!
APHASIA POCKET CARD – Bob Gauthier

For times when you are driving in your car and you get pulled over by a police officer, they may mistakenly think that you are under the influence of drugs or alcohol. You can give them this card, explaining what aphasia is and how they can better communicate with you.
TIPS FOR TRAVEL – Bob Caye

Trip to Vermont – I got stuck at the Canadian border and 6 cop cars stopped me. I had to turn around and then we got lost because it was dark out.
 COLORING BOOKS – Karen Turek

I enjoy adult coloring books. It's coloring fun, and I like looking at the finished page. It can be stress relieving for me. I like the gel pens that color shiny and beautiful. I have colored many books. It can be a good hobby.
MY TRIP TO ITALY – Lee Soverino

"We went to Italy.
So much to do.
Borghese Garden was beautiful.
Lee and Gail ate at Piazza Navon.
Lee ate mussels and Gail ate carbonaro.
It was so good."
BEEKEEPING – Andy Mitchell
I originally started to keep Bees in Lakewood, Colorado gradually increasing the number of hives from one to eight and as a consequence the honey from a few pounds at first to over three hundred pounds last year.
Towards the end of the last season my wife suggested if I was looking to retire that moving to New England was a favorable place to look at.  She had been a visitor with our grandson, Ryker, to the Thomas the Tank Engine Theme Park in the outskirts of Boston.  She fell in love with the are, describing it as a winding roads, trees and a series of small towns and villages. An England on steroids, which meant something to us as we were both born and raised in Yorkshire, England coming over to America in 1998 as potential immigrants.
After a short time we put an offer in for a location, as we though originally in Hampton, site unseen and after a counter offer we agreed on it.  It was a surprise that after we had purchased the house we reviews the small print and found that the zip code was  only for the USPS to deliver mail and in fact we had purchased a house with a different zip code in Scotland, fancy that, an Englishman being deceived that he was purchasing a house in Hampton when in fact it was Scotland,
Anyway, I had to make a choice of whether or not to bring my bees over to the new location.  One part of me was doing the math of trying to do the journey in one, collecting the bee hives at dusk then driving 2,000 miles without stopping. The other option was to sell the beehives and bees and re-start in Connecticut.  I did not know where to go with this people were in the Bee Club did not have a clear opinion either and time was coming to an end of my life in Colorado.  On the 20th of June I was admitted to St. Anthony's Hospital suffering a stroke,  I was kept overnight and discharged the following day.  The house was closing on the 7ith of July, so that at least resolved the Bee issue, they were for sale along with the hives and I was going to start all over again.
So, I have my boxes, roofs, frames and foundations to start, plus over eleven hundred dollars to buy anything else including bee packages.
I am buying four bee packages. That way I can tell if my beekeeping ability has remained in spite of my stroke resulting in a mild aphasia. The issue with the beekeeping is the lack of altitude in Connecticut. I have only kept bees in Lakewood, Colorado and the altitude with a very dry climate is nothing like in Connecticut.  I became a member of the Eastern Connecticut Beekeepers and they have a course in February, mainly for new beekeepers, about the trials and tribulation of becoming involved with the hobby.
The boxes, with frames and foundations are primarily only good to harvest honey but the bees need to have a supply of pollen and honey year round, especially in winter.  This I need to do first and traditionally it is in two supers with 10 frames. I do not know how many supers I have brought from Colorado but if I do not have enough I will replace the two supers with three mediums. That is equal in volume and it allows me to use the bees drawn out foundation to help accelerate the bee production of honey for them and make my supply of honey a better chance of success.
Also there are mites that affect the bees but they have antibiotics and these are applied in various forms three times a year. One thing I need to find out is what, if any, treatments work and more importantly don't work.
Wish me good luck and you never know if you see somebody selling honey at a farmers market it may well be me.
CROSS STITCH AND MORE – Rob Barcomb

     Rob participates in many activities including cross stitching, snowboarding, mountain boarding, playing musical instruments and so much more! He does not let his aphasia, or his right-sided hemiplegia hold him back from anything he wants to do.
MY U.K. TRIP – Henry Austin

Denise and raven at Tower of London

 Tower Bridge, London

Denise and Henry at memorial for Princess Diana and Dodi at Harrod's in London

 

Yard of Tower of London with Tower Bridge in background

Henry at the Tower of London

Traitors Gate at the Tower of London
SAILING ON BLOCK ISLAND – George Bineau Hanson
The last time I went sailing was July 2016. On this day I went with my son. The waves were low at the beginning of the trip. At mid day, they got higher. We set sail before sunrise and saw the sunset at the end of the day. We sailed all day.
WALK ON THE BEACH – Dick Marshall
The sunshine could not be any better than today. It was a bright day, warm and the water sparkled with the salt water. The kids were enjoying the activities, waiting for the fireworks on July 4th.
After all the friends and families arrived, there were snacks, hot and cold, and more food than anyone could imagine. I had a few coffees and too many muffins, who needs too much food!
My daughter asked if I wanted to go for a walk on the beach at Gaspee Point. I told her it was a beautiful day, that I could stay the whole day.
As the evening changed to night, the children were getting excited for the fireworks. Finally, fireworks got going! They were the greatest this year, as ever!
ADAPTIVE SKIING – Phil Turkington
All of my life I have been an avid skier. When I had my stroke 6 months ago, I was concerned but happy

that it only affected my voice, and not my physical body.
Last week I took a trip to Colorado, for some early season skiing and to check my body to see if it was actually working properly. Everything worked out perfectly and I had 5 good days of skiing. I had no problems and I was perfectly happy.
But what would I have done if I was partly paralyzed? The answer was all around me. Skiing on the slopes were about 100 adaptive skiers.  An adaptive skier is someone who had to adapt. Lose a leg, you ski with one leg. Lose two or are paralyzed from the waist down, you ski in a sled. Lose your sight and you ski with a guide who tells you when to turn, when to slow down, and when to stop.
These people are happy, having a good time and in many cases skiing much better than myself.
Adaptive skiing programs are started in the USA after World War II to help wounded warriors. It quickly became available to anyone that had a physical problem, and slowly developed through the Korean and Vietnam wars. In the 1990s technology improved and skis and sled became much easier to use, just in time for our latest wounded warriors from the Afghan and Iraqi Wars."
A NICE NIGHT OUT – V. Ohri
One day my wife Rajni and I decided to eat out in a restaurant. First we have to select a place where we like to go: a quiet place or a loud place. We have selected Angellino's Italian Restaurant in Tri City Plaza, Vernon, CT. It is a quiet place to eat. We were greeted by the receptionist. We told her we like to have a place for two guests. She chose for us a small booth. Then the waitress, named Lisa, came by our booth and asked for drinks. A few minutes later, she served us our drinks and asked, "Are you ready to order food?". "Yes" I said to her. We ordered paninis with a cup of soup. The paninis we ordered were grilled vegetables, well done. After about twenty minutes later, the food was served. The food was tasty and delicious. The service was excellent and great. Lisa earned a 20% tip. Overall I was happy that Rajni chose this restaurant."
LIGHTHOUSE DRAWING – Matt Palmer

       
     
ANSWERS TO THE APHASIA WORD SEARCH – Wilfred Lemire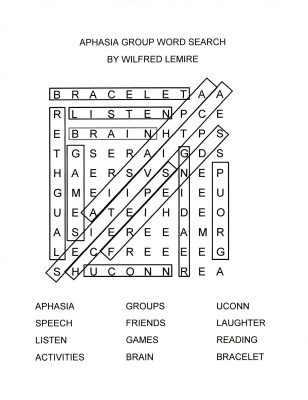 DICK GUNN FIELD – Dick "Coach" Gunn

Photos of our group member Dick "Coach" Gunn, when the football field at Brookside Park in Ellington was dedicated in his name. He was a crucial member of the Ellington athletics for over 30 years as a coach for football, softball, baseball, and more. Over the years he started a variety of local youth athletic programs that are still in place today.

              
THE STROKE EXPERIENCE -A Survey by, John Fundock

John created a survey to determine differences in the stroke experience among 24 of our group members.  Most members were between 56-75 when they had their stroke, received speech language therapy for 1-6 months, stayed at the hospital for 2-7 days. For more information, see below: